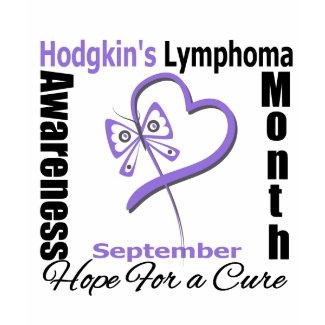 September brings national awareness for all Lymphomas, including Hodgkin's Lymphoma aka Hodgkin's Disease, a rare type of Lymphoma originating from a type of white blood cells called lymphocytes. It was named after British pathologist Thomas Hodgkin in 1832.
Hodgkin's Lymphoma is not a well-known cancer as is Breast Cancer. In order to get Hodgkin's Lymphoma noticed, it is important to promote and advocate it. Wearing a violet awareness ribbon is more than wearing an ordinary color. It's a mission, a statement and awareness for an important cause that affects thousands of men, women and children each year. When you wear a violet ribbon inspired design, you help put Hodgkin's Lymphoma in the forefront and you stand up to it by advocating, supporting and fighting for a cure. As a two time survivor of Hodgkin's Lymphoma, I personally know Hodgkin's Lymphoma awareness matters.

On that note, I am proud to announce our collection of violet ribbon inspired t-shirts and gifts to commemorate the importance of raising awareness for this rare cancer brought to you by our shops
HopeDreamsDesigns.Com
and our sister shop
CancerApparelGifts.Com
. Both shops have an extensive collection of Hodgkin's Lymphoma merchandise and we proudly donate to Lymphoma research.
Note: We also have an extensive lime green ribbon collection to commemorate Non-Hodgkin's and General Lymphoma at.
Lymphoma Awareness Month (Lime Green Ribbon)